---
06 March 2021: The Hindu Editorial Analysis
1) New space: On ISRO's first dedicated commercial mission.
ISRO must take advantage of the market opportunities from space applications.
GS-3: Achievements of Indians in science & technology; indigenization of technology and developing new technology, awareness in the fields of IT, Space technology.
---
Context:
1. The Indian Space Research Organisation (ISRO) on Sunday launched (from Satish Dhawan Space Centre in Sriharikota in Andhra Pradesh) Brazil's Amazonia-1 satellite onboard its Polar Satellite Launch Vehicle (PSLV) C51.
2. The NewSpace India Limited, a two-year-old commercial arm of the Department of Space now marking history and ISRO must take advantage of the market opportunities from space applications.
The first dedicated commercial mission of NewSpace India Limited (NSIL):
1. This is not the first time that NSIL has organized a launch of foreign satellites aboard an Indian Space Research Organization (ISRO) launch vehicle.
2. The 637-kg Amazonia-1 is the optical earth observation satellite of the National Institute for Space Research (INPE), the research unit of Brazil's ministry of science.
3. The Amazonia mission also saw 18 other satellites being launched and was the first fully commercial mission. India has so far launched 342 foreign satellites from 34 countries using its Polar Satellite Launch Vehicle platform and many of them have involved ISRO's first commercial entity, the Antrix Corporation.
4. The NSIL is undertaking this mission under a commercial arrangement with US-based launch services and mission management provider Spaceflight Inc.
NewSpace India Limited (NSIL):
1. It is a Public Sector Enterprise (PSE) of Government of India and commercial arm of Indian Space Research Organisation (ISRO).
2. It was established on 6 March 2019 under the administrative control of Department of Space (DoS) and the Company Act 2013. The main objective of NSIL is to scale up industry participation in Indian space programmes.
3. The Budget Estimates for Department of Space for FY 2019-20 is Rs 12,473.26 crore as compared to the RE of Rs 11,200 crore in FY 2018-19.
NSIL Objectives:
Transfer of Small Satellite technology to industry: NSIL will obtain license from DoS/ISRO and sub-license the same to industry.
Manufacture of Small Satellite Launch Vehicle (SSLV) in collaboration with private sector
Production of Polar Satellite Launch Vehicle (PSLV) through Indian industry
Production and marketing of Space based products and services, including launch and application
Transfer of technology developed by ISRO Centres and constituent units of DoS
Marketing of spin-off technologies and products/services, both in India and abroad.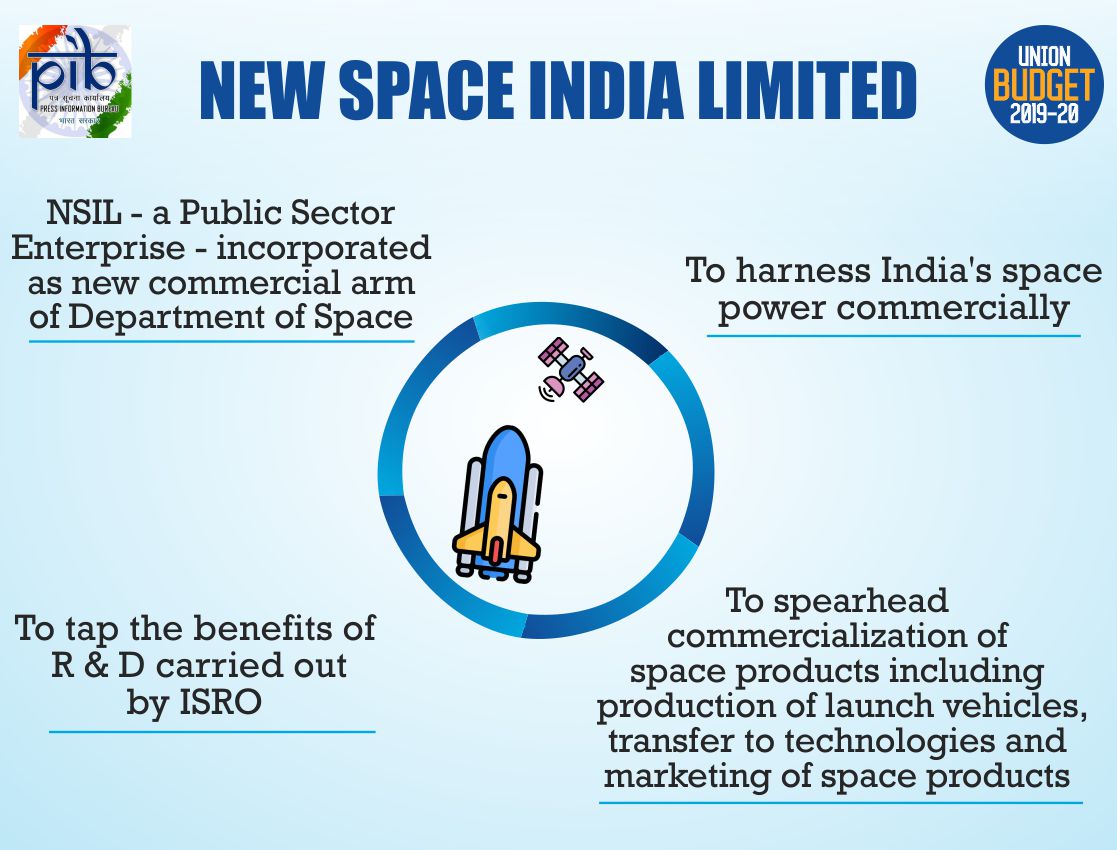 The responsibilities of NSIL differ from those of Antrix:
1. Antrix Ltd is another PSU under the Department of Space that acts as a commercial arm of ISRO and markets the products and services of the Indian Space Research Organisation (ISRO).
2. Antrix will handle ISRO's commercial deals for satellites and launch vehicles with foreign customers. NSIL will deal with capacity building of local industry for space manufacturing.
3. The formation of the Indian National Space Promotion and Authorization Center (IN-SPACe) a regulatory agency as well as plans of an independent tribunal to adjudicate disputes among private space entities, there is a potential explosion of market opportunities from space applications on the anvil.
The Role of private sector:
1. The private sector plays a major role in developing launch and satellite infrastructure for ISRO; there are now several companies that offer myriad services.
2. Many of these companies want to launch their own satellites, of varying dimensions, and the experience with ISRO has not been smooth always.
2. The most conspicuous has been the controversy involving Devas Multimedia, to which the Government of India owes nearly $1.2 billion going by an order of a tribunal of the International Chamber of Commerce and upheld by a United States federal court last year.
3. NSIL has a broad ambit and will be involved in collaborations spanning from launches to new space-related industries.
4. NSIL is also expected to be more than just a marketer of ISRO's technologies; it is to find newer business opportunities and expand the sector itself.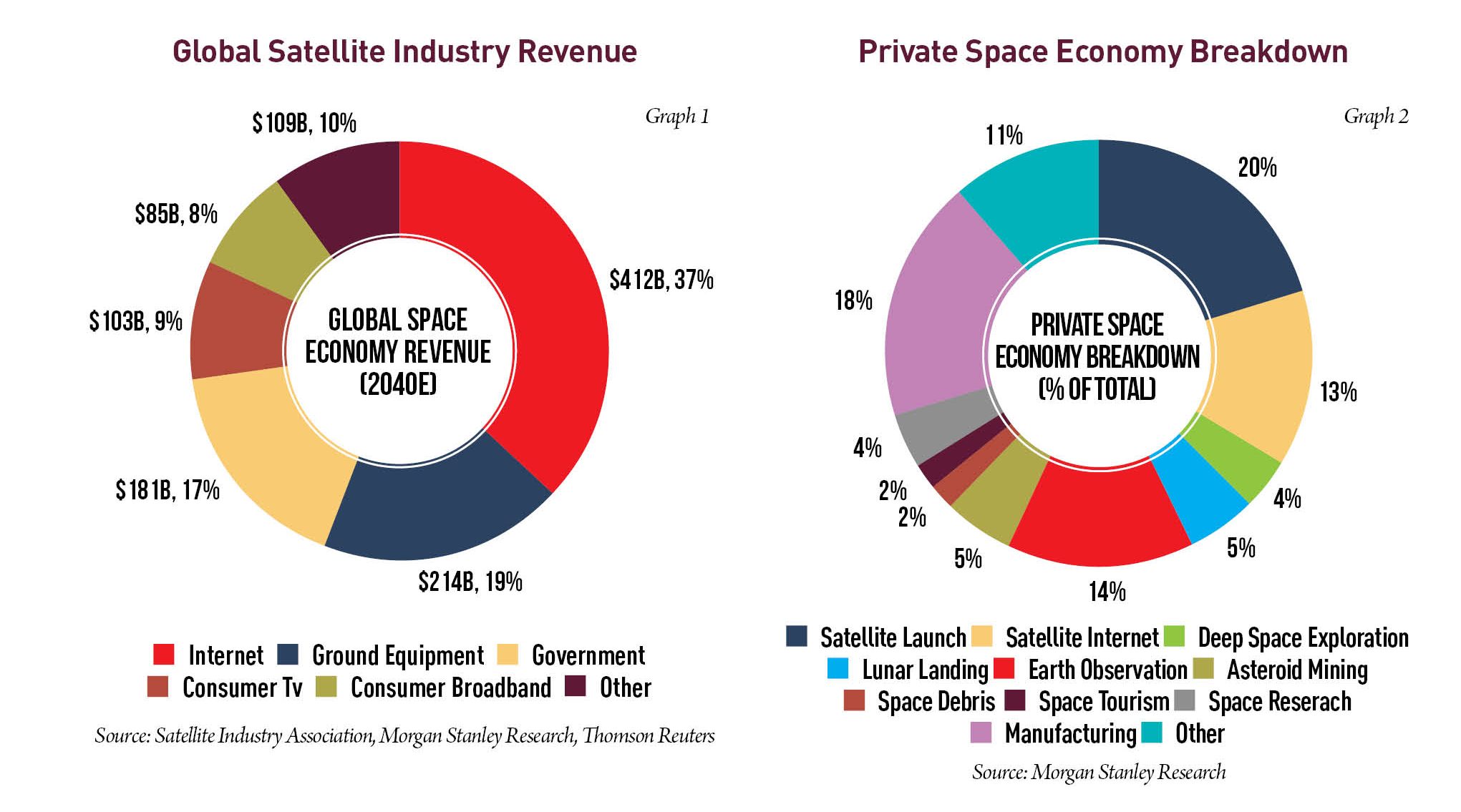 Way Forward:
1. The satellite technology has played a pivotal role in various industries, namely, media & entertainment, military segment, disaster management, etc. India being a home to several such industrial verticals, is about to boost its global satellite technology.
2. The government's creation of Indian Space Promotion and Authorisation Centre (IN-SPACe), a new entity under the Department of Space, that seeks to streamline and promote the country's utilization of private sector resources, know-how, and technology.
3. NSIL is also a move by India's space establishment to insulate the prospects of the space industry in India from repercussions of the Devas-Antrix imbroglio. However NSIL must endeavour to not be another Antrix but be continuously in start-up mode.
4. NSIL must conceive of ways to aid space start-ups reach out to rural India and facilitate more recruits from India's young to facilitate careers in space applications and sciences. It must see itself both as an Indian ambassador and disruptor in the space arena.
2) Patching the gaps in India's cybersecurity.
Doctrinal clarity and institutional coherence are essential for a robust cybersecurity posture.
GS-3: Challenges to internal security through communication networks, role of media and social networking sites in internal security challenges, basics of cyber security;
---
Context:
1. February 28, a sensational report in The New York Times, "China appears to warn India. As part of a broad Chinese cybercampaign against India's power grid, timed to send a message that if India pressed, its claims too hard.
2. The Union Power Ministry denied that the grid failure was linked to any cybersecurity incident, and blamed human error for it. While Maharashtra's Home Minister has promised to table the report in the Assembly, this would be the first time that a cybersecurity incident has been discussed this openly by government officials.
What is Cyber security?
1. Cyber security is the application of technologies, processes and controls to protect systems, networks, programs, devices and data from cyber attacks. It aims to reduce the risk of cyber attacks and protect against the unauthorised exploitation of systems, networks and technologies.
2. Cyber security can be described as the collective methods, technologies, and processes to help protect the confidentiality, integrity, and availability of computer systems, networks and data, against cyber-attacks or unauthorized access.
3. Cyber security is important because it encompasses everything that pertains to protecting our sensitive data, personally identifiable information (PII), protected health information (PHI), personal information, intellectual property, data, and governmental and industry information systems from theft and damage attempted.
India has been a target earlier:
1. India has been attacked by suspected Chinese state-sponsored groups multiple times in the past. In 2009, a suspected cyber espionage network dubbed GhostNet was found to be targeting, amongst others, the Tibetan government in exile in India, and many Indian embassies.
2. By pursuing the leads from that discovery, researchers found what they dubbed the Shadow Network, a vast cyberespionage operation which extensively targeted Indian entities, including military establishments, news publications, and even the National Security Council Secretariat itself, with clear evidence that confidential documents had been accessed by the attackers.
3. There were a number of subsequent attacks that targeted India, including Stuxnet, which had also taken down nuclear reactors in Iran; Suckfly, which targeted not just government but also private entities including a firm that provided tech support to the National Stock Exchange;
4. Dtrack which first targeted Indian banks, and later the Kudankulam nuclear power plant (Tamil Nadu) in 2019. There is much evidence to show that Chinese state-sponsored groups were responsible for many of these attacks.
5. Documents released by WikiLeaks show that groups such as the Central Intelligence Agency's UMBRAGE project have advanced capabilities of misdirecting attribution to another nation-state ("false flag attacks") by leaving behind false "fingerprints" for investigators to find.
India Institutional security:
1. The National Security Council, usually chaired by the National Security Adviser (NSA), and plays a key role in shaping India's cyber policy ecosystem. The NSA also chairs the National Information Board, which is meant to be the apex body for cross-ministry coordination on cybersecurity policymaking.
2. The National Critical Information Infrastructure Protection Centre established under the National Technical Research Organisation in January 2014 was mandated to facilitate the protection of critical information infrastructure.
3. In 2015, the Prime Minister established the office of the National Cyber Security Coordinator who advises the Prime Minister on strategic cybersecurity issues.
4. India's Computer Emergency Response Team (CERT-In), which is the nodal entity responding to various cybersecurity threats to non-critical infrastructure comes under the Ministry of Electronics and Information Technology (MEITY).
5. The Ministry of Defence has recently upgraded the Defence Information Assurance and Research Agency to establish the Defence Cyber Agency, a tri-service command of the Indian armed forces to coordinate and control joint cyber operations, and craft India's cyber doctrine.
6. The Ministry of Home Affairs oversees multiple similarly-named "coordination centres" that focus on law enforcement efforts to address cybercrime, espionage and terrorism,
7. The Ministry of External Affairs coordinates India's cyber diplomacy push both bilaterally with other countries, and at international fora like the United Nations.
Doctrine on cyber conflicts:
1. India is yet to clearly articulate a doctrine that holistically captures its approach to cyber conflict, either for conducting offensive cyber operations, or the extent and scope of countermeasures against cyber attacks.
2. Some reports indicate that India too engages in targeted cyber-attacks, the rules of engagement for that too are unclear. This is unlike India's approach to other global security regimes.
3. The absence of a credible cyber deterrence strategy means that states and non-state actors alike remain incentivised to undertake low-scale cyber operations for a variety of purposes espionage, cyber crime, and even the disruption of critical information infrastructure.
The Indian cyber security market:
1. The Indian cybersecurity market is poised to experience significant growth across various segments, including cybersecurity services, organization capabilities, startups, jobs and salaries.
2. The digital economy contributes approximately 15% to India's GDP and it is expected to grow to 20% by 2024.and eCommerce as an industry is expected to grow to $25 Billion by 2024.
3. India's digital requirements have expanded the data infrastructure to cover more than 120 recognized data centers and cloud networks which Indian & MNC enterprises and Central & State Governments leverage and access to store data of not just citizens, but also global and domestic transactions
4. Digital payments in India are growing at 13% CAGR, while the mobile wallets domain will soon experience growth of 50% CAGR.
Define the red lines:
1. The same argument must be made for India's contribution to global regimes crafting norms for responsible state behaviour in cyberspace.India has been an active participant at processes within the First Committee of the United Nations General Assembly dealing with issues of disarmament and international security.
2. India's long-term strategic thinking on core issues of debate at these fora remains relatively unknown, barring a few statements by government of India official.
3. A key opportunity herein is a precise articulation of how international law applies to cyberspace, which could mould the global governance debate to further India's strategic interests and capabilities.
4. Resolution /Laws include positioning on not just non-binding norms but also legal obligations on 'red lines' with respect to cyberspace-targets that should be considered illegitimate due to their significance for human life, such as health-care systems, electricity grids, water supply, and financial systems.
Conclusion:
1. Clearer strategy and greater transparency are the need of the hour to improve India's cybersecurity posture. Because the digital economy contributes approximately 15% to India's GDP and it is expected to grow to 20% by 2024.and eCommerce as an industry is expected to grow to $25 Billion by 2024.
2. To better detect and counter threats from both state actors and their proxies as well as online criminals, improved coordination is needed between the government and the private sector, as well as within the government itself — and at the national and State levels.
3. A clear public posture on cyber defence and warfare boosts citizen confidence, helps build trust among allies, and clearly signals intent to potential adversaries, thus enabling a more stable and secure cyber ecosystem.